Description
The all new Raptor-X with world class fire tube design is a new addition to our boiler line.
This commercial-grade, gas-fired condensing boiler is a standout in its class, featuring a 10:1 turndown ratio and 95% AFUE rating. Built on world-class engineering, the stainless steel Raptor-X offers home heating and optional domestic hot water when installed with a Mega-Store II indirect.
The innovative control with user-friendly touch screen display lends the Raptor-X exceptional ease of set up and superior serviceability.
With two models to choose from, ranging from 320 to 399 MBH, the Raptor-X can be floor or wall-mounted and is an excellent choice for commercial or residential buildings
Download Brochure
Velocity_RaptorX_Literature-Nov-17





Product Brief
Type:
Residential
Heat Exchanger:
Stainless Steel
Fuel:
Natural Gas or LPG
Input:
320 – 399 MBH
Efficiency (AFUE)
95%
Venting:
Direct Vent
Ignition:
Direct Spark
Trim:
Water
Domestic Water:
N/A
Burner:
Modulating with 10:1 turndown ratio
Configuration:
Packaged
Notes:
Outdoor Reset with included sensor
Easy access control panel:
– Split high and low voltage connection boards with fuse protection
– LWCO ready
– Sola Control system
Product Ratings
MODEL NUMBER
AFUE %
INPUT
(MBH) MIN-MAX
HEATING CAPACITY (MBH)
NET AHRI (MBH)
MAWP (PSI)
APPROX. SHIPPING WEIGHT (LBS)
RPTR320HB
95.0
32-320
304
264
80
270
RPTR399HB
95.0
39.9-399
379
330
80
275

The Net Water Ratings are based on a piping and pickup allowance of 1.15.
The manufacturer should be consulted before selecting a boiler for installations having unusual piping and pickup requirements, such as intermittent  system operation, extensive piping systems, etc.
Refer to manual for system vent length derates.
The Raptor X has special venting and clearance requirements. Consult the installation manual or the factory
Refer to manual for derates based on system vent length and altitude.
Product Dimensions
| | | | |
| --- | --- | --- | --- |
| MODEL NUMBER | WIDTH (INCHES) | DEPTH (INCHES) | VENT SIZE (INCHES) |
| | | | |
| RPTR320HB | 23 | 22.4 | 4 |
| RPTR399HB | 23 | 22.4 | 4 |
| | | | |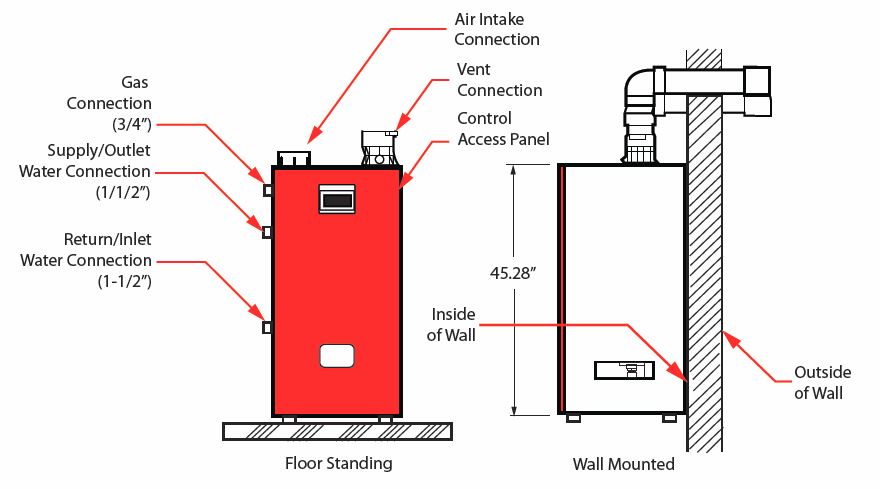 Related Documents