Description
The Aruba 5 Series (AWR) residential, cast iron, hot water boiler is a fully-packaged, installer-ready product. The rear draft diverter provides a low-profile design that allows for closet applications on AWR models through the AWR210B. This atmospheric, gas-fired boiler is for use with a conventional chimney fueled with natural or LP gas.
The Aruba 5 comes with a Honeywell Integrated Boiler Control System that incorporates temperature control, circulator and ignition functions and a Low Water Cut-Off in a single module. The Aruba 5 control system also includes an additional circulator output for a second heating zone or an indirect water heater like the Mega-Stor II. All controls are located inside the front vestibule, creating a clean look and space efficient design. With the controls located in the front of the boiler and supply/return tappings on both the left and right side, the Aruba 5 has flexible installation options to fit most locations.
Download Brochure
Type:
Residential
Heat Exchanger:
Cast Iron
Fuel:
Gas Fired (Natural or LP)
Input:
38 – 280 MBH
Efficiency (AFUE)
84%
Venting:
Chimney
Ignition:
Electronic Ignition
Trim:
Water
Domestic Water:
N/A
Burner:
N/A
Configuration:
Packaged
Notes:
Integrated Boiler Control
Rear draft diverter
Multiple piping options – right and left
Low water cut-off
Designed for installation on combustible floors
Product Ratings
NATURAL OR LP GAS
MODEL NUMBER
NO. OF SECTIONS
INPUT
(MBH)
HEATING CAPACITY
(MBH)
AHRI NET RATING
(MBH)
AFUE %
APPROX. SHIPPING WEIGHT
(LBS)
AWR038B
2
38
32
28
84.0
234
AWR070B
3
70
59
51
84.0
284
AWR105B
4
105
88
77
84.0
334
AWR140B
5
140
117
102
84.0
384
AWR175B
6
175
146
127
84.0
434
AWR210B
7
210
176
153
84.0
484
AWR245B
8
245
205
178
84.0
533
AWR280B
9
280
234
203
84.0
583

Altitudes above 2,000 ft. – ratings should be reduced at a rate of 4% for each 1,000 ft. above sea level (U.S.A. only).
The AHRI Net Water Ratings are based on a piping and pickup allowance of 1.15.
The manufacturer should be consulted before selecting a boiler for installations having unusual piping and pickup requirements, such as intermittent system operation, extensive piping systems, etc.
Product Dimensions
DIMENSION  (INCHES)
MODEL NUMBER
 A
B
C
AWR038B
9-3/4
31-1/2
4
AWR070B
12-7/8
31-1/2
4
AWR105B
15-3/8
31-1/2
5
AWR140B
18-1/2
31-1/2
6
AWR175B
21-1/2
31-3/4
7
AWR210B
24-5/8
33-1/2
7
AWR245B
27-5/8
33-1/2
8
AWR280B
30-3/4
33-1/2
8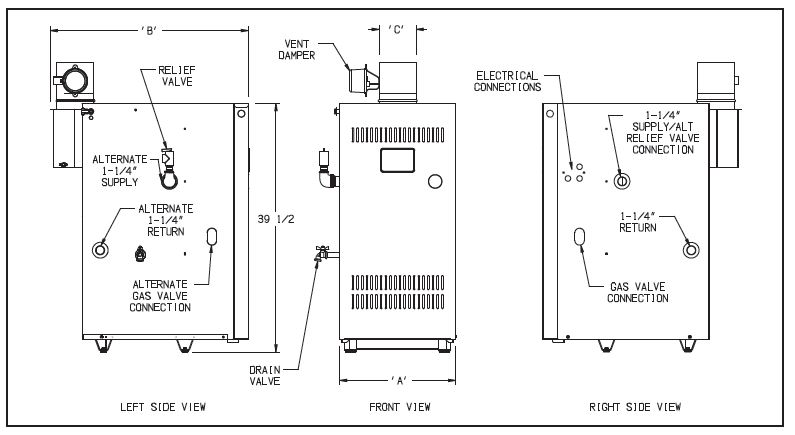 Related Documents
Multiple_Boiler_Piping_and_-Wiring_Options-AWR-B_-BWF-B
Taco-OEM-007e®-2-ECM-Circulator-Manual-Jun-20
Generic-Cast-Iron-User's-Manual-980414-11-17-
CVB-Aruba-5-Lit-Sheet-nc-PF-Nov-21