[vc_row][vc_column][vc_column_text]
Hot Water Heater Services in New Jersey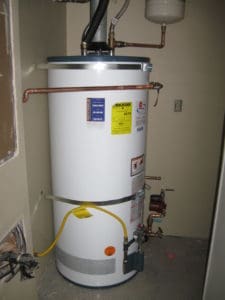 Not all water heater jobs are the same and the choice of your company should reflect that. Your hot water heater is probably one of the single most important components of your HVAC system. If its damaged or on the fritz, everyone will feel it. It is a hassle for anyone that needs or uses hot water. This means that showers will be cold and so will be washing dishes.
One of the things our customers love about us when it comes to New Jersey water heater repair is that we arrive and finish quickly. We realize that the only thing you'd like is for things to be back to normal as soon as possible. You'll be happy to know that our technicians are factory certified for most major water heater brands and we have years of experience providing repairs, replacements or installations. Our techs are available 24 hours a day, 7 days a week for water heater repair.
$749 Water Heater Replacement – Call for Details
We specialize in:
Water Heater Repairs & Replacement
Water Heater Installation
Water Heater Maintenance & Checks
Atlantic HVAC & Plumbing specializes in water heater repairs, replacements and installations. So, whether you need standard maintenance or it's an emergency, were at your service 24 hours a day 7 days a week. Trust us, we know how important it is for you to have hot water running. You can't shower with cold water and washing dishes just isn't the same. The types of hot water heaters we service include:
Conventional Water Heater: These types of water heaters contain water in a variety of unique sizes fit to your needs. Gas or electric energy is used in order to heat the water in the tank. Once a faucet or tap is used, water is then pulled through hot. We provide all types of repairs on older water heaters but to note, newer models are far more energy efficient. Typically, you can save over 7% on your monthly bill.
Tank-less Water Heater: You can think of a tank-less water heater as an on-demand model. These are energy efficient and carry a lower cost of ownership because they only heat water when needed. Although the up-front cost is higher for installation, property owners report saving as much as 30% on water heating bills.
Hybrid Heat Pump Water Heater: A hybrid heat pump water heater pulls in heat from the air and utilizes it to heat your water. This is done through electrical and water connections already installed on your property. By going this route, you can save as much as 60% on your energy bill.
Another alternative is a tank-less water heating system. Tank-less systems are energy efficient, take up very little space, and experiencing very long lifespans. Normally, these systems cost more initially to install but provide massive savings over time.  The reason tank-less systems reduce costs over time is because they do not waste energy keeping still water warm for on demand use. Instead tank-less systems supply hot water at the exact moment you need it.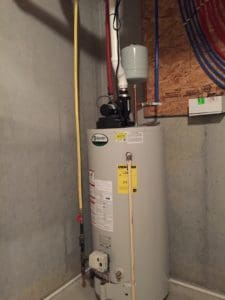 Tank based water systems are said to operate anywhere from 9-14 years. However, tank-less heating systems are said to last anywhere from 18-25 years. tank-less systems work best for small families or commercial establishments with a relatively low need for constant running hot water.
Water heaters are usually extremely reliable equipment, but occasionally they do run into a few bumps in the road. These issues can include no hot water, rust colored water, rotten egg odor, a popping noise, whining noises, or water leakage. Before a specialist repairs any of these issues, they will make sure the power is off, turn the gas pilot off, and shut off the water supply.
Causes of these issues include faulty gas pilots, gas thermocouples, and gas pilot control valve. Possible repairs of these issues include retightening the gas thermocouple, replacing the gas pilot control valve, and checking the flame operation. Water Heating systems operate by storing hot water and drawing on it as needed. The installation of these systems can be complicated and should only be handled by professionals. Due to the large size of the tank used it may take 2-4 to properly transport and install this system.
Reliable Hot Water System services
Atlantic HVAC and Plumbing is able to install, replace and maintain your water heater of almost any type or brands like Rheem, Bradford, AO Smiths and GE etc…, including a tank-less water heaters. If a replacement water heater is compulsory, Atlantic HVAC and Plumbing water heater expert will help you finding which one is right for your home and within your budget. We provide the best nj resources need for your hot water heaters.
Professional Heating Service Solutions All Over Northern New Jersey
Call Us Today At (201) 600-0803
You can always count on us for reliable and affordable Heating services. Our team are fully licensed, insured, bonded and experienced. We specialize in Heating System repair, replacement and installations.
[/vc_column_text][/vc_column][/vc_row]