Description
The Phantom Combi is the newest member to our Phantom line of stainless steel wall mounted condensing boilers. It is an energy efficient boiler with 95% AFUE that can not only heat your home, but also provide domestic hot water all from one boiler. Available in 3 sizes with heating and domestic hot water inputs up to 180 MBH and a 10:1 turndown, the Phantom Combi is one of our most versatile condensing boilers. A factory preset control system featuring a touch screen display with plain language guidance makes for quick and easy setup.
 Download Brochure
Type:
Residential
Heat Exchanger:
Stainless Steel
Fuel:
Gas Fired (Natural Gas or LP)
Heating Input:
120-180 MBH
Domestic Hot Water Input:
135-180 MBH
Efficiency (AFUE)
95%
Venting:
Direct Vent
Ignition:
Direct Spark
Trim:
Water
Domestic Water:
Included
Burner:
Modulating with 10:1 turndown ratio
Configuration:
Packaged
Notes:
Outdoor reset with included sensor
Preinstalled circulator with domestic hot water 3-way valve
5-year parts warranty
Product Ratings
Space Heating Ratings 
Domestic Hot Water (DHW) Ratings 1
Model Number
Input (MBH)
Min-Max
Heating Capacity,
MBH
Net AHRI Water,
MBH2
AFUE, %
Input (MBH)
Min-Max
Max Draw GPM3,4
Approx. Shipping Weight (lbs)
70°F Rise
77°F Rise
90°F Rise
Combi Model PHNTM135CB
12-120
112
97
95.0
12-135
3.3
3.0
2.6
152
Combi Model PHNTM150CB
15-150
142
123
95.0
15-150
3.9
3.7
3.1
169
Combi Model PHNTM180CB
18-180
169
147
95.0
18-180
4.5
4.1
3.5
169

DHW ratings are not AHRI certified.
The Net AHRI Water Ratings shown are based on a piping and pickup allowance of 1.15. The manufacturer should be consulted before selecting a boiler for
installations having unusual piping and pickup requirements, such as intermittent system operation, extensive piping systems, etc.
Maximum draw rates shown are at sea level and minimum vent length. Under other conditions draw rates will be reduced proportionally to the reduction in input.
See manual for input derate information.
Minimum flow rate of 0.56GPM required through the boiler to initiate a call for DHW. A higher flow rate may be required through the fixture due to mixing at the
tempering valve and fixture itself
PHNTM180CB not for installation at altitudes above 2000 ft. Consult installation manual for limitations on 135CB and 150CB installations above 2000 ft.
Product Dimensions
| | | |
| --- | --- | --- |
| MODEL NUMBER | DEPTH (INCHES) | HEIGHT (INCHES) |
| PHNTM135CB | 15 | 30 |
| PHNTM150CB & 180CB | 19 | 30 |
| | |
| --- | --- |
| CONNECTION SIZE | |
| SUPPLY/RETURN | 1″ MPT |
| DHW | 3/4″ MPT |
| GAS | 1/2″ MPT |
| VENT | 3″ |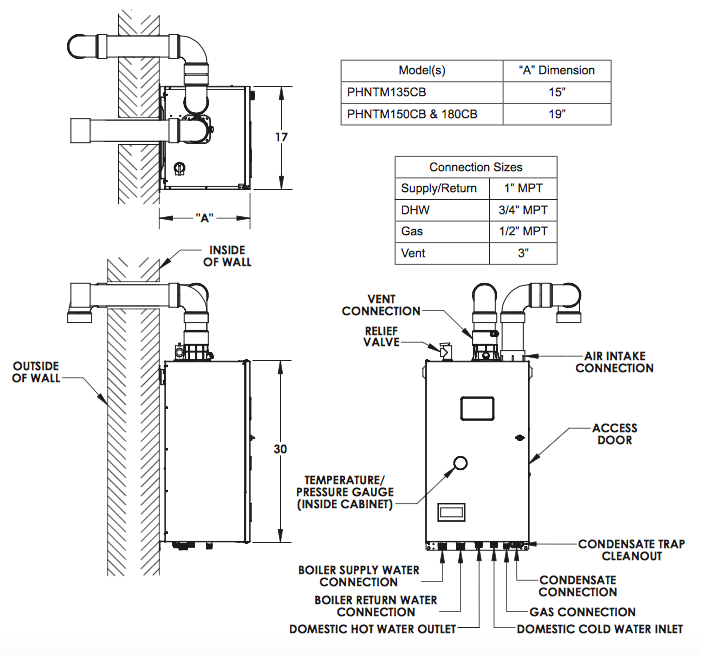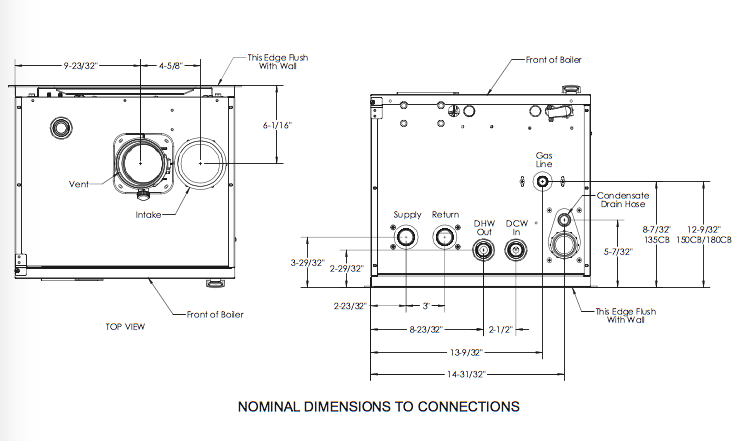 Related Documents
10-to-1-Combi-Water-Tube-LP-Conversion
CVB-PhantomCombi-Adv-Flyer-Web-June-18-1
Phantom_Combi_Submittal_Form-Jan18
Phantom_Combi_Noise-Mitigation_Feb18
Phantom_Combi_Special-Domestic-Water-Piping-Apr18
Installation-Operating-and-Service-Instructions-Supplement-PN.108407-03w
Phantom_Combi_Conversion_Manual_Combi_Only_Feb18
CVB-Phantom-Combi-Lit-Sheet-Web-Oct-19