Description
The Phantom X is a residential and light commercial stainless steel, water tube high efficiency, condensing, gas fired hot water boiler. The Phantom X ships as a natural gas boiler and is field convertible to LP gas and is available in two sizes- 210 & 285 MBH input.
The Phantom X has a modulating burner with a 5:1 turndown ratio and an AFUE rating of 95.0%. The Phantom X control features domestic water priority with priority protection, warm weather shutdown, freeze protection and pump exercise. The Phantom X control also support multiple boiler installations with lead/lag for up to 8 boilers.
The Phantom X has a multiple venting options and with their stackable design feature, they offer floor space savings for those small mechanical room applications.
Download Brochure
CVB-PhantomX-210-285-Lit-Sheet-Web-Jan-19-1
Type:
Residential/Commercial
Heat Exchanger:
Stainless Steel Water Tube
Fuel:
Natural Gas or LPG
Input:
210 – 285 MBH
Efficiency (AFUE)
95%
Venting:
Direct Vent
Ignition:
Direct Spark
Trim:
Water
Domestic Water:
N/A
Burner:
Modulating with 5:1 turndown ratio
Configuration:
Packaged
Notes:
Outdoor reset with included sensor
Multiple Venting options
Multiple boiler lead/lag – up to 8 boilers
MODEL NUMBER
MAXIMUM INPUT
(MBH)
MINIMUM INPUT
(MBH)
HEATING CAPACITY
(MBH)
AHRI NET RATING
(MBH)
AFUE (%)
WATER CONTENT
(GALS.)
SHIPPING WEIGHT
(APPROX.)
PHNTM210
210
42
194
169
95.0
1.7
206
PHNTM285
285
57
262
228
95.0
2.4
256
*Gross output
**Net Rating
†Thermal efficiency

For elevations above 2,000 ft., reduce ratings 4% per 1,000 ft. above sea level. PHNTM210 and PHNTM285 may not be installed using LP gas above 7,000 ft. PHNTM 399 and PHNTM500 may not be installed above 7,000 ft. For Canadian installations over 4,500ft., consult authority having jurisdiction for guidance.
The Net Water Ratings are based on a piping and pickup allowance of 1.15.
The manufacturer should be consulted before selecting a boiler for installations having unusual piping and pickup requirements, such as intermittent system operation, extensive piping systems, etc.
Refer to manual for system vent length derates.
The Phantom-X has Special Venting and Clearance Requirements. Consult the Installation Manual or the Factory.
ODEL NUMBER
DIM. "A"
DIM. "B"
SUPPLY & RETURN
CONN. SIZE
(NPT)
GAS CONN. SIZE
(NPT)
PHNTM210
23-15/16″
32-3/16″
1″
1/2″
PHNTM285
21-13/16″
43-7/16″
1-1/4″
3/4″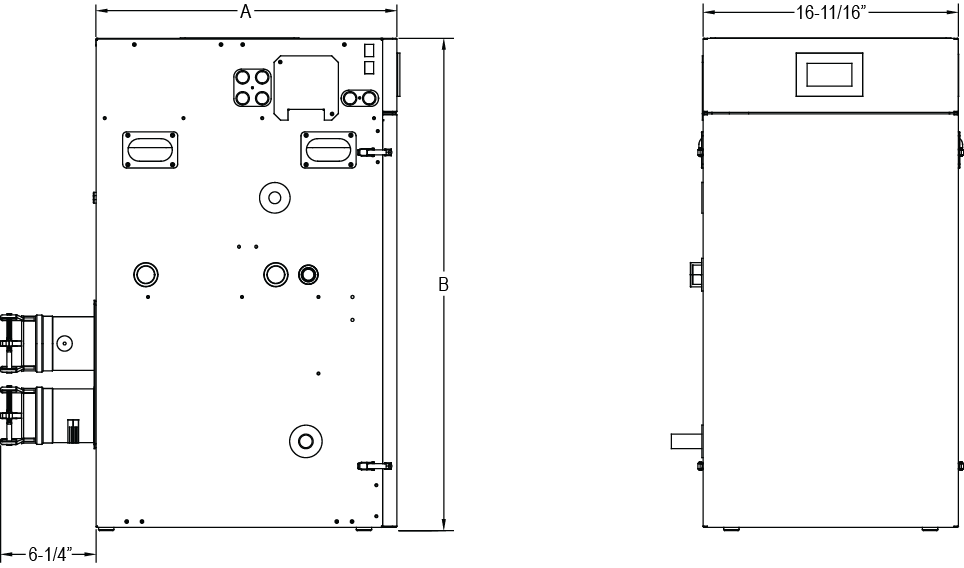 Sage_Zone_Control_Circulator_Panel_and_Valve_Panel-Literature-Sept17
Phantom_X_210-285_Submittal_Form-Jan-18
CVB-PhantomX-210-285-Lit-Sheet-Web-Jan-19
Installation_Manual_Phantom_X_210-285
CVB-PHNTM-X-Venting-Options-May-20
107364-02-Users-Condensing-High-Efficiency-Gas-Fired-Hot-Water-Boiler